For Beautiful Bathrooms in North Wales

North Wales - Llandudno - Conwy - Colwyn Bay

Beautiful Bathrooms are our passion.
We are a local specialist bathroom company headed by Tony Mottram and based in North Wales. Tony has over 20 years in the industry and is passionate about installing bathrooms of the highest quality. We cover the areas of Llandudno, Colwyn Bay, Conwy and North Wales and offer a unique personal service.
Choosing beautiful bathrooms.
We will call to see you and discuss your ideas. We will offer our advice and once we have identified the type of bathroom you want we will source the best bathroom within your budget. Our knowledge of the industry and trade discounts will normally mean that we can do this much cheaper than you can yourself.
Bathroom Specialists covering Llandudno, Colwyn Bay, Conwy & North Wales
Bathroom Specialists in North Wales for Luxury Bathrooms in North Wales



1st class job, couldn't rate his workmanship and professionalism too highly. Tidiest jobbing bathroom specialist we could have hoped for, which is particularly important due to our siting within an apartment complex. Removal of all waste and cleanliness very impressive as was his ability to complete most of the work unsupervised whilst the owners were away.
I approached Tony for a quote to convert my elderly parents bathroom into a wet room. Having gone through the options and price we agreed he would complete the work in January 2019.

I cannot speak highly enough of him. His standard of work was excellent and he is a considerate, genuine, helpful, and reliable tradesman. The work he has done for my Mum and Dad is beyond our expectations and we would recommend him to anyone; with the confidence he will do an awesome job.

Aside from all that he's a great guy.

Tony B - Penrhyn Bay

Installing and Fitting Luxury Bathrooms throughout North Wales
Once we have purchased your bathroom we start the process of ensuring that your bathroom is the best it can be. We undertake everything from start to finish including plastering and tiling to flooring, mirrors, cupboards and lighting. Attention to detail is the cornerstone of our business and sets us apart.

Finishing bathrooms
Once we have finished, your bathroom will be ready. It will look wonderful and there will be nothing you need to do. Not only that but it usually works out cheaper than having different tradesmen doing different jobs. Plumbers, plasterers, tilers and electricians simply do their bit and leave. We co-ordinate everything, take pride in our work and take responsibility for your entire bathroom.
A comprehensive bathoom service for Llandudno, Colwyn Bay, Conwy and North Wales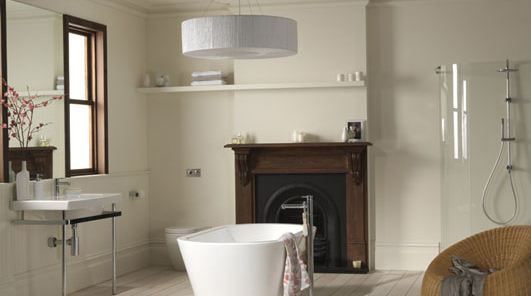 Our comprehensive service includes:-
Free visit to discuss your requirements

Free expert advice on the best bathrooms for you

Free detailed quotation

20 years experience

All work conforms to UK building regulations

All work fully guaranteed
We take care of everything from start to finish.
If you live in Llandudno, Colwyn Bay, Conwy or anywhere in North Wales Contact us now!
One day all bathrooms will be created this way!
Pendyffryn, LLandudno Junction, Conwy, North Wales LL31 9AT | Mobile: 07809 727 346